How Do I Stop My Pin Badges From Falling Off?
We've all been there - you proudly wear your favourite pin badge, only to find it mysteriously missing later in the day, leaving you badgeless and sad.
To keep your pin badges from falling off (and prevent future bouts of pin badge-induced depression), we'll explore the world of pin badges, examine the common reasons they fall off, and, most importantly, the ingenious hacks to keep them securely in place.
So, if you're tired of saying goodbye to your beloved pins, let's get started to learn how to keep them right where they belong!
What Can I Put Pin Badges On?
Before we go through the best ways to stop your pin badges from falling off, we must learn what you can and can't put your pin badges on. Without going into too much tedious detail, if the pin can pierce the fabric, and the material isn't so thick that you can't attach the clasp, you can put a pin badge on it.
Here are some of the most popular garments and materials that people display their enamel pins on:
Jackets and coats
Bags, satchels, and backpacks
Caps and beanies
Shirt collars
Trainers
Scarves
Jumpers
Belts
What you want to attach your pins to usually dictates the kind of clutch (the thing to connect to the back of the badge to stop it from stabbing you and prevent it from getting lost) you should use.
Why Do My Pin Badges Keep Falling Off?
There are a few common reasons your pins keep falling off and getting lost. If you're constantly losing your favourite badges, one of the following might be the root of your misery.
Weak Clutch: Not all clutches are made equal, and low-quality clutches can easily come loose, causing your enamel pin badge to disappear, never to be seen again.
Misaligned Pin & Clutch: If you haven't attached your pins properly, you'll likely lose a pin sooner or later. Make sure the clutch is straight and has a bit of bite before you hit the town with your funky flair.
Wear & Tear: Rubber clutches are more susceptible to wear and tear than other clutch styles because the rubber can wear away over time, leaving a bigger hole and a loose fit. When the clutch becomes loose, it's more likely to fall off, taking your badge with it.
Types of Clutches & Attachments
Most people will be familiar with the butterfly clutch that's usually found on the back of enamel pin badges, but did you know there are a whole host of other options?
Here are some popular clutches you can choose when you order badges from Made by Cooper.
Rubber Clutch:
If you're wearing your pin badges close to your skin you should use a rubber clutch. They're soft, make wearing pin badges more comfortable, and come in many colours.
Metal or Butterfly Clutch: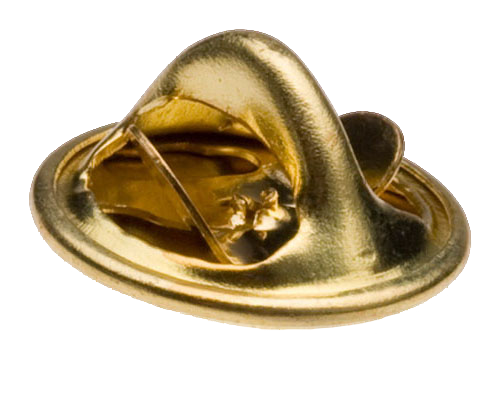 Butterfly clutches offer a little more security thanks to the "wings" that apply pressure to the pin to grip on and then release the badge when you squeeze the wings together.
Deluxe or Locking Clutch: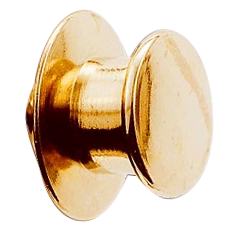 The locking back is designed with security in mind. The top hat-style back and its fancy inner workings give a firmer grip than regular clutches.
Safety or Broach: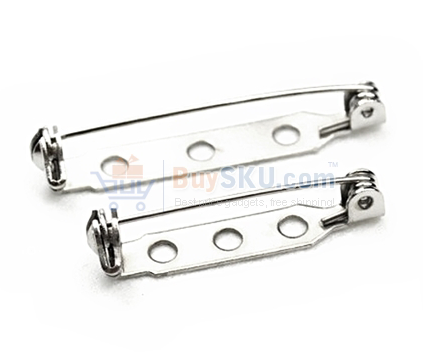 The safety pin style attachment lets you attach enamel pin badges to your bags and coats like a traditional button badge.
How Can I Keep My Favourite Lapel Pins & Enamel Badges Safe?
To prevent the heartbreaking tragedy of losing the most valued pieces in your collections, use one of these pin hacks (depending on your situation) to give you peace of mind.
Use Locking Pin Badge Clutches
If you absolutely must wear your best badge when you're out and about, at the very least, you should put a locking clutch on the pin. If you've ever accidentally misaligned a deluxe clutch on your pin's post, you'll know how annoying it can be to get them off. When properly installed, these locking clutches provide a vice-like grip while maintaining the pin's usability.
Go Double Clutch
What's better than one clutch to keep your badge safe? You guessed it, two clutches.
Where possible, choose pin badges that have two clutches on the back. Not only will this stop the enamel pin from moving around and reducing the chances of it falling off, but you'll also have double security around the back, so you're less likely to lose it.
Try Super Glue for a Permanent Fix
Add a dab of super glue to the pin on the back of the enamel badge before securing the clutch to make it almost unmovable, thus preserving your badge's presence for eternity. Only use this tip if you want to permanently fix your pin badge to a garment or accessory, and be very careful when you're applying the glue, or you'll end up ruining your pin badge, jacket, bag, cap, or whatever you choose to fix it to.
Display Your Pin Badges Instead
Pin walls, display boards, and badge pendants are popular ways to curate incredible displays of pins (check out our pin wall we have in the office); you can make Instagram-worthy displays and keep your pins safe at the same time.
In the unlikely event, your pin badges fall off, you won't have far to look.
Don't Be Afraid To Flaunt Your Flair
Being afraid to lose your pins doesn't mean you should stop having fun with them and displaying them. Make sure you choose the correct fixings for your preferred display method, and keep showing off your flair for years to come.
Made by Cooper
26 August 2023