NHS Rainbow Badge
What are NHS Rainbow Badges?
The Evelina London Children's Hospital started the NHS Rainbow Badge project to convey that Evelina London is a "non-judgemental and inclusive place for children, young people and their families who identify as LGBTQ+".
The badges are part of a project to help educate staff about the challenges LGBTQ+ people may face when accessing NHS healthcare and give them the resources to support and advocate for LGBTQ+ people, emphasising that wearing a badge is a responsibility.
Official NHS-Approved Design
High-quality & low-cost
Robust butterfly clutch to keep the badge safe
Nickel-Plated Soft Enamel
30mm x 17mm
Epoxy-Coated
How Can I Order NHS Rainbow Badges?
We're an official supplier to NHS Trusts and can only supply NHS Rainbow Badges to affiliated organisations. If you belong to a branch or trust of the NHS, get in touch, and we'll confirm your eligibility before arranging for your order to be dispatched as soon as possible.
What's the difference between soft & hard enamel?
There are subtle differences between hard and soft enamel including price. Read more about the differences between hard and soft enamel.
| | |
| --- | --- |
| Standard | 1st January to 7th January 2024 |
Need it faster? If you have a deadline, please get in touch.
Call us on 01484 937 877
How much are NHS Rainbow Badge?
For our prices on NHS Rainbow Badge, please get in touch and we can help you create merch you'll love.
Need Help With Your NHS Rainbow Badge Design?
Whether you're a veteran designer or making NHS Rainbow Badge for the first time, you can utilise our design service for FREE every time you order to ensure your Stock are perfect for your project.
We use the latest technology and the most up-to-date design techniques to reproduce your designs, ideas, and logos faithfully. Our team offers seamless communication and can work from simple sketches or basic descriptions so you can create professional NHS Rainbow Badge with little to no design experience.
Our in-house team of experts will help you Create Merch You'll Love.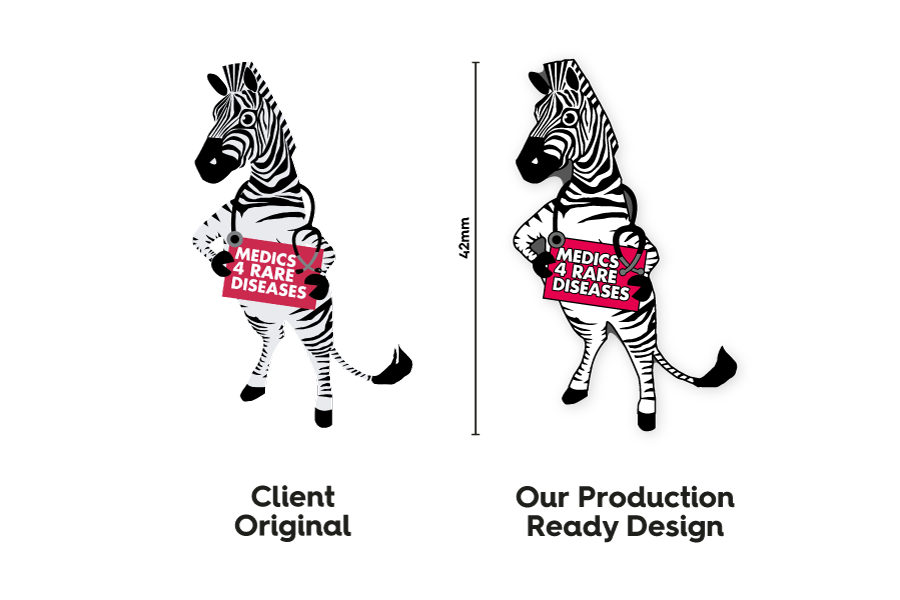 How do I design NHS Rainbow Badge?
We are experts in Enamel but if you want to try design yourself then we've put together this handy little enamel design guide, all the guides and dimensions you must adhere to when designing the perfect enamel badge.
What file format should I use to upload my design?
You can use .ai, .eps, .svg, .jpg, .gif, .psd, .pdf, .tif, .zip file types
It takes approximatley 22 days to make NHS Rainbow Badge on our standard service.
Unfortunately, we don't offer express delivery for NHS Rainbow Badge, you're best getting in touch and we can always check your deadline.
Yes we do. There maybe an additional charge that is calculated in the shopping cart or Contact us for a quote. Our US website is in USD and includes FREE Shipping for orders over $150.
You can get an instant quote by entering the details of your design and the number of units you require. If you're unsure of your design, contact our team and they'll give you a quote once you've ironed out the details.
Yes, send us an enquiry with your design and we will reply with a quote for how much that will cost.
Our Order Process
See our simple 3 steps in the ordering process, from Design to Delivery.
Our Price Promise
We regularly compare our prices to ensure we are giving you the best price & quality available. If you find a better price somewhere, challenge us to beat it.
If you are looking to order over 5,000 NHS Rainbow Badge, please contact us for our very best price.
Some of the organisations we have worked with